Written by Tiffany Tubman
October 4, 2017
Two weeks ago, Hurricane Maria swept across the United States owned Islands of Puerto Rico and US Virgin Islands were citizens of the United States live, work, and contribute to American culture. However, these victims of a hurricane, have not been treated like any other victims. Especially the residents of the U.S. Virgin Islands.
The United States Virgin Islands (USVI) consist of 4 larger islands: St. Croix, St. Thomas, St. John and Water Island, and some 50 smaller islets and cays. The total area of the USVI is 133 square miles. The British Virgin Islands (BVI) are made up of 4 larger islands; Tortola, Virgin Gorda, Jost Van Dyke and Anegada, and 32 smaller islands. The British Virgin Islands are owned by Great Britain and were not directly impacted by Hurricane Maria.
US Virgin Islands residents can vote fully in all elections if they become a resident of one of the 50 U.S. states. If residents of one of the 50 states become residents of the Virgin Islands, they can no longer vote for President or for voting members of Congress.
Simply put, nobody living in the islands can vote for anything happening in the United States, although they pay taxes and are impacted by it. (Another Constitutional violation by the US of its own Constitution-no taxation without representation). Many believe this to account for the delayed response and lack of importance from the current administration under Donald Trump, to get aide to the Island residents.

USVI Demographics:
*Note charts in counts and percentages, the way transparent data should be reported.
https://vimovingcenter.com/statistics/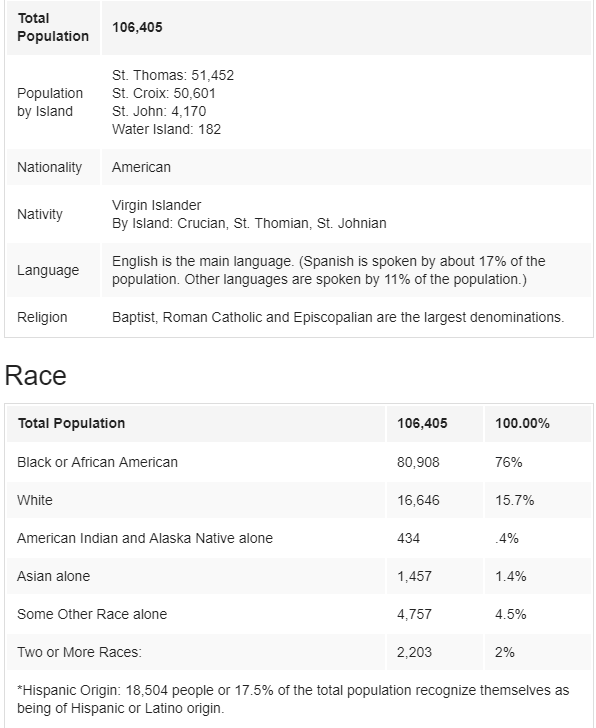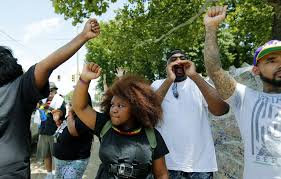 Right now, our people need us! All of the mainstream media attention has been focused on Puerto Rico, a White Hispanic majority area. And very little attention of efforts has been given to USVI, leaving them feeling helpless, forgotten and alone.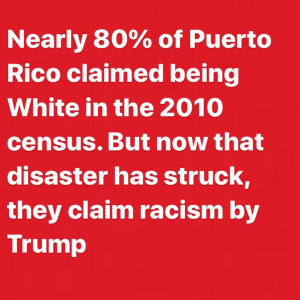 Their cries for PR did not go unnoticed. Not only did the mainstream media and social networks respond with attention and cries for help, celebrities came to the rescue as well.
Fat Joe- Collected five planes worth of goods to Puerto Rico
Mark Cuban- Gave his plane to send goods to Puerto Rico
Pitbull- Sending goods to Puerto Rico
Let us demand the same cries for help and attention for USVI. Newsflash: USVI and PR are not the same place and because one gets something, that does not necessarily mean the other gets it.
The USVI is asking donations to be made as follows: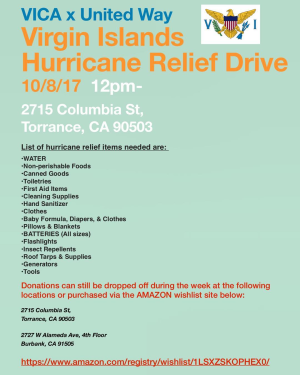 Follow U.S. Virgin Islands @usvirginislands via Twitter and on Facebook.
Raise awareness please, let us circulate this SOS far and wide. Please donate on their Amazon registry via the link above. (https://www.amazon.com/registry/wishlist/1LSXZSKOPHEX0/) And through the American Black Cross, operated by S. Lee Merritt, Esq. (@MeritLaw) via this link. https://www.amazon.com/registry/wishlist/1NN6LRHJZ0CC5/ref=cm_sw_r_cp_ep_ws_REb0zbBQ2MPYR
Attorney Merit firmly states, "All items purchased will be placed directly in the hands of those in the most overlooked communities, affected by natural disaster."
His organization has been back by Shaun King and Sophia Nelson of NBC. When contacted by me about his efforts, he provided the response below: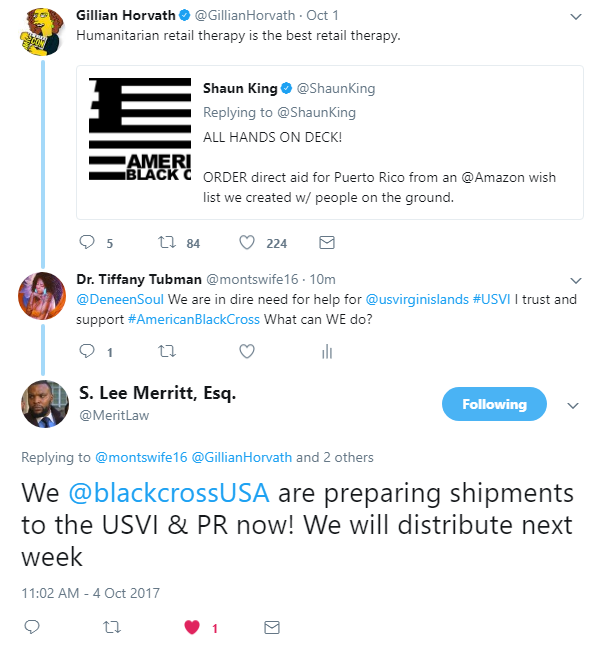 Ase'
Tiffany Tubman
Twitter: @montswife16
Email: TubmanFights@gmail.com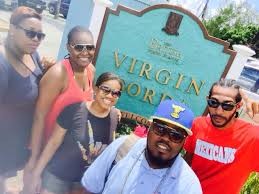 4 October 2017 6:45 pm